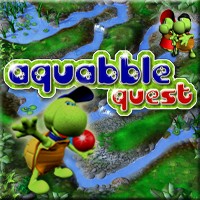 Aquabble Quest is a dazzling twist on a classic bubble-popper!
Timmy Turtle is caught in a river full of mysterious Aquabbles that block the way home to his family - and it's up to you to clear his path!
Featuring over 150 addictive levels, 2 game modes, and exciting power-ups, Aquabble Quest is sure to provide you with hours of challenge and tropical fun!
Screenshots




System Requirements
OS: Windows 98, Windows 2000, Windows XP
Memory: 256 MB
CPU: 1.4
Video: Video Card
Score: 0.0, votes: 0