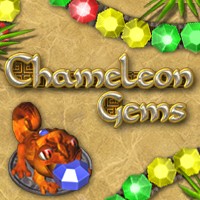 Traverse through 100 dazzling levels through the map of an ancient land, solving plenty of puzzles on the way!
Control a stone chameleon idol and, using its magic power, blast gems before they reach the end!
When you finish each level, your score is converted to money that you can spend at the shop.
Buy your chameleon extra lives or new skins, each with different powerups and effects!
Can you unlock them all?
Screenshots




System Requirements
OS: Windows 95, Windows 98, Windows 2000, Windows XP, Windows Me, Windows NT
Memory: 128 MB
DirectX: 8.0 or later
CPU: P2 450
Video: 3D Accelerated Video Card
Score: 0.0, votes: 0