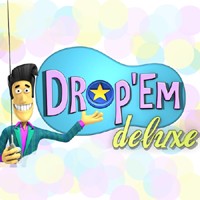 It's the wacky game show that'll win you over.
Plunk down your bet and watch it bounce, bounce, bounce!
There are 4 spectacular drop games, rolled into one!
Classic will hook you as you go for the big score, Poker will tempt you as you try for the monster hand, Blingo will thrill you as you get your numbers, one-by-one and Roll 'Em will tease you as you roll the dice for one more score!
With lots of unlockable chips and bonuses, Drop 'Em Deluxe provides hours of hilarious fun!
Screenshots




System Requirements
OS: Windows 98, Windows 2000, Windows XP, Windows Me
Memory: 64 MB
DirectX: 8.1 or higher
CPU: P400
Score: 0.0, votes: 0