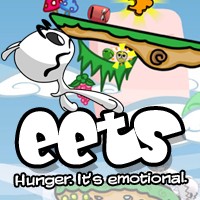 Hunger.
It's emotional!
Dig into one amazing strategy game where the player manipulates Eets' emotions and behaviors through the use of food and other props to solve a puzzle.
Use prankster whales, exploding superpigs, angry marshmallows and other amazing items to help guide Eets to safety and find his role in a wacky world where nonsense is the rule!
With over 100 levels, trophies to win, and a slew of glowing reviews and awards, Eets is a sure-fire crowd pleaser!
Screenshots




System Requirements
OS: Windows 98, Windows 2000, Windows XP, Windows Me
Memory: 128 MB
DirectX: 8.1 or later
CPU: P3 500
Video: 32MB Video Card
Score: 0.0, votes: 0