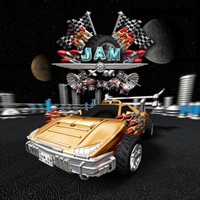 This dynamic arcade racing game will bring you into the distant future to take part in the intergalactic racing tournament!
Your goal is not just to race, but to destroy rivals who threaten your superiority with your car heavy weaponry!
Accept the challenge, collect bonuses, and have fun on the journey.
Between championships you can go to a mechanics bay to upgrade your car and improve your deadly arsenal.
Prove that you are truly the best racer in the galaxy with Jam XM!
Screenshots




System Requirements
OS: Windows 98, Windows 2000, Windows XP, Windows Me
Memory: 128 MB
DirectX: 8.0 or later
CPU: P800
Video: 3D 16MB Video Card
Score: 0.0, votes: 0