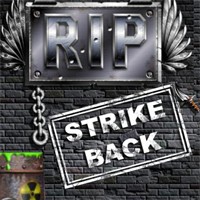 Your favorite antiheroes are here to strike back with another score to settle.
Death, Halloween or Rock-N-Roll...
each character has his own strengths and skills so pick one and start shooting.
In Story Mode, you'll fight through 60 furious levels using an arsenal of upgradeable weapons, tanks, helicopters and turrets or for a quick adrenaline fix, play Rush Mode and see how long you can last.
For those who like to shoot, RIP: Strike Back salutes you!
Screenshots




System Requirements
OS: Windows 98, Windows 2000, Windows XP, Windows Me
Memory: 256 MB
DirectX: 9.0
CPU: P 500
Score: 0.0, votes: 0