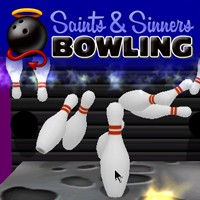 Experience the thrills and spills of life on the Bowlers Tour!
Compete against local bowlers for an exciting game or in a tournament where you can win trophies and enhance your prestige.
Special charms and bowling balls give you and your opponent a strategic advantage, and other bowlers may offer you deals and bets while you play.
With 10 exciting alleys, all-new whimsical characters, and a myriad of unique bowling balls, Saints & Sinners Bowling offers countless hours of entertainment!
Screenshots




System Requirements
OS: Windows 98, Windows 2000, Windows XP, Windows Me
Memory: 128 MB
DirectX: 8.1
CPU: P3 600
Score: 0.0, votes: 0