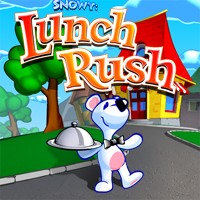 Join Snowy the Bear as he sets out to run the best restaurant in town!
Send Snowy scampering all over his restaurant to seat customers, take orders, serve food, collect money and clear tables.
It's not easy satisfying a room full of hungry patrons as you wait on drive-thru customers and take reservations over the phone, but with Snowy's musical talent and help from the dessert tray, you might survive the shift.
Earn enough cash to keep the restaurant open and you might just win the contest!
Screenshots



System Requirements
OS: Windows 98, Windows 2000, Windows XP, Windows Me
Memory: 128 MB
CPU: P500
Score: 0.0, votes: 0